2023: We Are Considering Giving Automatic Ticket To Jonathan Not Tinubu – APC
As the 2023 general elections draws closer, there are ongoing political alignments and realignments especially within the two main political parties in Nigeria, All Progressives Congress(APC) and Peoples Democratic Party(PDP).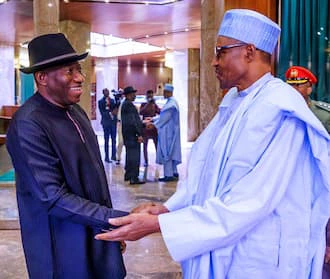 One name that has remained on the lips of many is Former Nigeria President, His Excellency, Goodluck Ebele Jonathan.
Jonathan, who was defeated at the 2015 presidential election by the sitting President, Muhammadu Buhari is been rumoured to be a favourite of some members of the APC due to his wide acceptance and popularity.
Read Also : Top List Of Nigerian Politicians With Corruption Cases Who Joined Ruling Party, APC To Escape Prosecution
But, all does not seem well as some founding members of All Progressives Congress, who are also interested in the 2023 Presidency
Jonathan, who is yet to join the APC, is seen as a close ally to President Buhari, which is why, he is rumoured to take over from Buhari while others suggest, it's a grand plan by the APC to return power to the North after he serves a single term.
Goodluck Jonathan, however is not a card carrying member of All Progressives Congress(APC).
Jonathan the APC called all sort of names when he was the President of Nigeria, they said he was clueless and weak, why are they begging him to come back? Goodluck Jonathan is now a Statesman and his is contented with what is doing in Africa and in the World. Buhari/ APC have failed in all ramifications of governance
The All Progressives Congress says former President Goodluck Jonathan will be given an automatic opportunity to contest for the 2023 presidency when he finally joins the ruling party.
Read Also : Revealed: Why Former President Jonathan Is Delaying Joining APC, As Party Gives Him Waiver For Contesting 2023 Presidency
The National Secretary, APC Caretaker, and Extra-ordinary Convention Planning Committee, John Akpanudoedehe, said this while featuring as a guest on Channels Television's Politics Today on Wednesday.
He said this when asked about the speculations that Jonathan is considering to join the ruling party.
The APC official also clarified that the ex-president will also be granted a founding member status if he joins.
Chairman of the Caretaker/ Extra-Ordinary National Convention Planning Committee of the All Progressives Congress, Mai Mala Buni, and some APC governors had unprecedently visited the ex-President in November 2020.
Share this